Will Massaging Your Scalp Make Your Hair Grow Faster?
Besides reducing stress and tension, scalp massages promote hair growth.
A scalp massage is a more gentle massage than the ones you get for your body. You can also do it with an essential oil if you like, and use your fingertips or a scalp massaging device.
The benefits of a scalp massage focuses on the hair follicles. According to Healthline, it stimulates the follicles to produce thicker hair, encouraging hair growth.
How to Massage Your Scalp
Massage With Your Fingers
Use both of your hands to apply light pressure to your scalp, while moving in small circles. Massage your scalp with your fingertips for at least 3 minutes.
There are tools available that you can use for an effective and soothing head massage like electric brushes and scalp massagers. You can use these tools for your scalp the way you use your fingers.
Massage With Essential Oils
Essential oils like rosemary oil and peppermint oil are known to help with hair growth, regulate sebum production and control dandruff. Hollywood Hair Bar's Hair Regrowth Serum has these essential oils, herbs, and fruit oils that penetrate the scalp to grow back your edges, and fill in your bald spots. You can massage your scalp with this serum every day for best results.
Using Hollywood Hair Bar's Hair Regrowth Serum With A Scalp Massage
How Does A Scalp Massage Promote Hair Growth?
Studies have shown that regular scalp massages can stimulate hair growth. This is achieved by increasing blood flow to the hair follicles, which delivers the needed nutrients and oxygen to them. This environment promotes hair growth and potentially increases the hair's density over time.
Scalp massages can also help distribute your scalp's natural oils evenly across your hair, keeping it conditioned and healthy. They also help relax the scalp muscles, reducing stress, which can contribute to hair loss.
How Hollywood Hair Bar's Hair Regrowth Serum Works
Our Hair Regrowth Serum has been specially made for all who desire longer and fuller hair. You can also use this with a scalp massage to stimulate hair growth. When used daily, you can notice increased hair growth and the appearance of hair density in as soon as 7 to 14 days. Its powerful blend of natural ingredients nourishes your scalp making your hair healthier, thicker, and longer.
Boost The Effects Of A Scalp Massage With Our Hair Regrowth Serum
After applying the serum to your scalp, massage it for 1 to 3 minutes. This will help the serum penetrate deeper into the scalp, making sure your hair follicles get all the nutrients they need to grow healthy and strong.
Embrace the Journey to Healthier, Fuller Hair
While hair growth doesn't happen overnight, adding scalp massages into your hair care routine is a step towards achieving your hair goals. Try this relaxing self-care experience with Hollywood Hair Bar's Hair Regrowth Serum and experience longer, thicker, and fuller hair.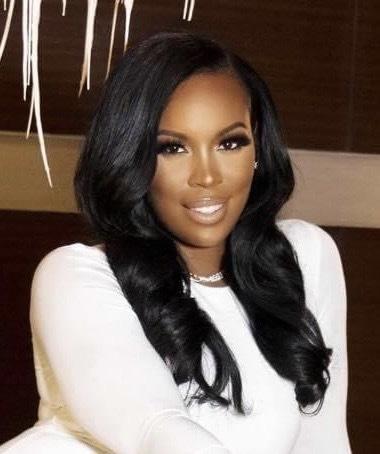 15 years ago my daughter had eczema as a baby and all of her hair fell out.
As a mother, I felt like a failure.
I quickly learned there weren't any natural hair products on the market, and I went on a quest to find the best natural ingredients that help grow hair.
I formulated my hair regrowth serum that is safe for babies, grandmothers and everyone in-between.
It's specifically made for 3-4c hair, and doesn't contain a single harmful chemical.
My daughter is a beautiful 15 year old with a full head of hair now, and since then Hollywood Hair Bar has helped over a million women (and counting) grow their hair.
Now I want to help you too.