Why Your Hair Stopped Growing
Have you ever caught yourself wondering why your hair won't grow past your shoulders? It's a question many women think of especially when hair seems to be stuck at a certain length or shows signs of thinning.
If you're reading this, chances are you've tried various solutions without seeing much change. It's not always about the products you use, but rather a deep understanding of your hair and what it truly needs.
I'm here to give you answers and solutions made just for textured Hair Barbz like you.
7 Reasons Why Your Hair Won't Grow
There are many reasons your hair might feel like it's not growing, especially if you have textured hair:
1. Natural Hair Cycle: Hair doesn't grow indefinitely. It has a life cycle that includes growing, resting, and shedding phases. Sometimes, it might just be at the resting phase.
2. Hair Damage: Overstyling, chemicals, and heat can weaken the hair, leading to breakage and stunted growth.
3. Genetic Factors: Just like skin type or height, hair growth patterns can be inherited.
4. Nutritional Deficiencies: Lacking essential nutrients can hinder hair growth.
5. Health Conditions: Underlying issues, such as thyroid problems or hormonal imbalances, can affect hair growth.
6. Stress: Chronic stress can disrupt the natural hair growth cycle.
7. Over-styling: Tight hairstyles can lead to hair loss and bald spots.
5 Ways To Prevent Hair Loss
1. Dietary Balance: Eat foods rich in vitamins like Biotin, Vitamin E, and Iron. Adding Hollywood Hair Bar's hair-friendly vitamins and tea to your diet can help you grow longer, healthier hair. 
2. Reduce Heat Exposure: Hair dryers, hair straighteners, and curling irons can damage the hair. Try air drying or blow drying until your hair is damp and let it dry from there.
3. Scalp Care: Massaging your scalp can enhance blood circulation, promoting  hair growth.
4. Loosen Up: Choose hairstyles that don't pull or tug.
5. Manage Emotional Health: Activities like yoga or meditation can help keep stress levels in check.
Making sure you have strong hair can set the stage for growth while preventing hair breakage.
1. Hydration: Drink enough water and use moisturizing hair products.
2. Limit Harsh Products: Natural, sulfate-free products can be more gentle and nourishing.
3. Trim Regularly: This may sound counterintuitive, but removing split ends can prevent breakage, leading to longer hair over time.
What Can Help Stimulate Hair Growth
We often hit a certain length, usually around the shoulders, and then it seems our hair decides that's it. No more growth. It's frustrating, especially when you've been using several products and doing all kinds of treatments to grow your hair. 
Here's where Hollywood Hair Bar's Hair Regrowth Serum helps you. Combining the nurturing benefits of coconut oil with the potent growth properties of castor oil, it's like providing your hair with a luxury spa treatment, all within the comforts of your home. It also has hemp, carrot oil, tea tree oil, and other fresh natural ingredients.
Add Hollywood Hair Bar's Hair Growth Serum into your daily routine by massaging it into your scalp. Pair it with a balanced diet, proper hair care practices, and a bit of patience, and watch your hair grow in 7 to 14 days.
How To Grow Your Hair Naturally
Other than using using products made from all-natural, healthy ingredients, here are some home remedies you can also try:
1. Scalp Massages: Boost your hair roots' circulation by massaging your scalp with a tool or with your fingertips for 2-3 minutes daily.
2. Natural Hair Masks: Homemade masks using avocado, eggs, or yogurt can nourish and strengthen your hair.
3. Aloe Vera: This natural remedy can soothe the scalp and enhance hair texture. You can leave it in for 30-45 minutes before rinsing with a gentle shampoo like Hollywood Hair Bar's All Natural Regrowth Herbal Shampoo.
If you've tried multiple remedies without success, it might be time to consult a dermatologist or trichologist. Professionals can provide insights, tailored treatments, and even address potential underlying health issues affecting your hair.
Remember, your hair journey is unique, and while growing long hair may seem impossible, there's always a solution.
I'm so excited for you to experience the transformative power of Hollywood Hair Bar's Hair Regrowth Serum in your hair growth journey.
Let Hollywood Hair Bar help you make your hair goals a reality.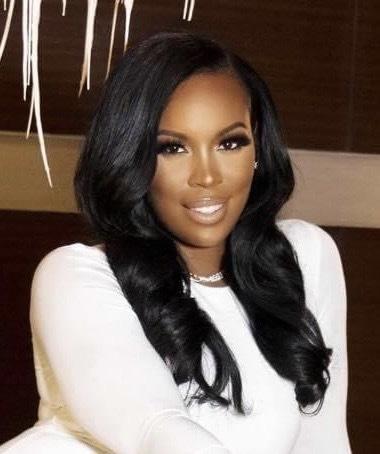 15 years ago my daughter had eczema as a baby and all of her hair fell out.
As a mother, I felt like a failure.
I quickly learned there weren't any natural hair products on the market, and I went on a quest to find the best natural ingredients that help grow hair.
I formulated my hair regrowth serum that is safe for babies, grandmothers and everyone in-between.
It's specifically made for 3-4c hair, and doesn't contain a single harmful chemical.
My daughter is a beautiful 15 year old with a full head of hair now, and since then Hollywood Hair Bar has helped over a million women (and counting) grow their hair.
Now I want to help you too.